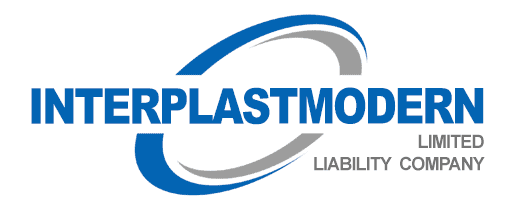 INTERPLASTMODERN LIMITED LIABILITY COMPANY (IPM LLC) produces, in accordance with the Technical Specifications, a wide range of polyvinyl chloride (PVC) plastics intended for insulation of conductive cores, as well as for sheathing and protective hose of wires and cables, which are operated, depending on the grade of plastic and the design of the wire or cable, in the temperature range from minus 55 °C to plus 75 °C.
The company also produces plastics for the manufacture of consumer goods, watering hoses, etc.
PVC plastic (hereinafter referred to as "plastic") is a granular thermoplastic material obtained by processing a polyvinyl chloride composition.
Depending on the properties and purpose of the plastic, the following types and grades of plastic are produced.
Plastics for general industrial use:

for insulation of conductors, grades I-40-13, I-40-13A, I-40-14;
for insulation for LAN cable I-40-13;
for sheaths of wires and cables O-40, O-40, OM-40, increased frost resistance O-55;
for non-combustible sheaths and protective hose NGP 30-32, NGP 40-32

for filling, cable interlayer PK-40, PK-20;

for seals, seals – extrusion UPE, injection UPL-30;
for watering hoses – SHLP.
Plastics for the production of low fire hazard cables with low smoke and corrosive gas emissions and resistant to fire spread when laying cables in bundles:
for insulation of conductors PPI 30-30;
for protective sheaths PPO 30-32, PPO 30-35;
for internal filling of PPV-30.
Plastics that meet the environmental requirements of European standards with the use of stabilizers that do not contain lead compounds:
insulating I40-13A (lead-free);
protective shells O-40 (lead-free).
Our products comply with the requirements of the European Parliament Directive on the Restriction of the Use of Hazardous Substances in Electrical and Electronic Equipment and are confirmed by the RoHS certificate.
Cable and wire products using our plasticizers are successfully exported abroad, including to European countries.
PACKAGING OF MANUFACTURED PRODUCTS
Finished products – granulated PVC plastic – are packed in specialized soft containers made of polypropylene fabric of the "BIG-BAG" type with a polyethylene liner weighing 600-650 kg, and polypropylene bags with a polyethylene liner weighing 25-30 kg each, which are formed on wooden pallets and transported in covered vehicles.
Labeling and packaging are carried out in accordance with the technical specifications for the products.
IPM LLC was organized in 2007 and specializes in the production of granular polyvinyl chloride (PVC) plasticizers for the manufacture of cable and wire products, as well as for use in other industries.
The company has its own production facilities equipped with high-performance equipment. The quality control of finished products and incoming control of raw materials is carried out by a certified laboratory (Certificate No. AB 86-21).
The use of new technologies and modern equipment ensures the production of high-quality products that meet the requirements of regulatory documents, domestic and European standards, which allows the company to successfully occupy a worthy position in the industry and develop in modern conditions.
The company's own laboratory, experience and professionalism of its employees allow the company's team to independently solve issues related to the development of new and improvement of existing plasticizer brands at the request of the consumer.
The company's priorities are to meet customer requirements:
individual approach, production of plastic compounds with specified characteristics;
product quality guarantee;
competitive prices;
technical support;
logistics support;
timely delivery of goods.
In recent years, the company has reconstructed its production facilities. The equipment was completely renewed, three automatic mixing lines and four pelletizing lines were installed, which ensures the production of high-quality products of the required assortment for timely delivery to the consumer. All equipment complies with European standards and is CE certified.